ATLANTIC CHALLENGE
BENEFIT ART SHOW AND AUCTION
525 Main Street, Rockland, Maine AUGUST 1-15, 2007
GALA AUCTION THURSDAY AUGUST 16, 6:00pm - James Julia Auctioneers
A summer long show with opening reception Friday June 20, 2007 - 5-9 PM. This show includes work by well-know artists, including Eric Hopkins, Gil Coyle, Frederic Kellogg, Phillip Frey, Ron Frontin and Jean Kigel.
All artwork is created on found maritime objects like rudders and transoms, offering a unique palette for each artist's work.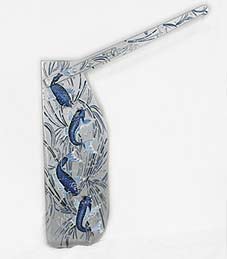 SOLD
Blue Obi Fish by Jean Kigel - Oil on Wood
This painting is inspired by an 18th century piece of fabric art - a Japanese OBI - (the waist sash woven on coarse cloth for a working woman's kimono) This original OBI is a treasure delivered to Rockland, Maine by an 18th century sea captain and has been in the home of a Rockland resident ever since.

On the rudder four, delphinium-blue carp with white and navy accents, plunge across the rudder - in and out stylized waves and bubbles.

This image has an undeniable Asian feel typical of Kigel's Asian brush work on rice paper, for which she is well-know locally. Kigel has traveled and studied brush painting in both Japan and China.