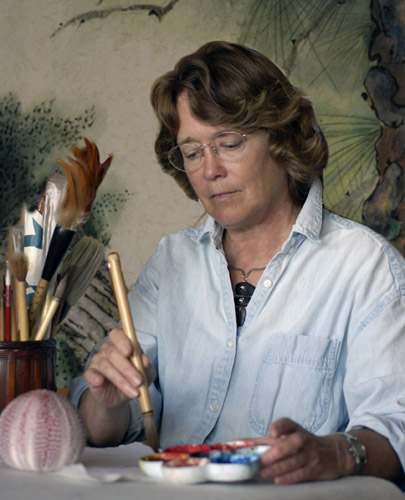 photo courtesy of Joyce Morrill
ARTIST'S STATEMENT
"I feel an image
in whispering waves of light and sound...
My brush dances on paper."
Jean Kigel
Down East, Maine and the Far East mix in my psyche and in my art. I paint from a storehouse of childhood images and Eastern travels. I was lucky to have been born and nurtured in rural Warren, Maine, on a two hundred acre farm rich in natural beauty. There, I learned about the cycles of birth, growth, and decay.
I have also learned how stressed nature becomes by the imposition of the wealth of the few on the good of the many.
My adult readings of Buddhism, Taoism, and Shintoism have confirmed my earliest beliefs that gods live in trees, stones, insects, and tradition. These gods reign in the fairy labyrinth of an uprooted tree, in skeletal stone walls and cellar holes, and in broad boughs of whispering pines. These gods wave blue flags in the meadows, their priests speak from yellow and maroon striped pulpits to a congregation of moss soldiers, and their messengers hover over vernal pools landing their sermons on dented water.
On travels to Japan in 1985, I began my study of Oriental brushstrokes and sumi-e techniques. I am drawn to the whiteness of negative space, the delicacy of balance, and the simplicity of a stroke that suggests an image. I love the light-hearted ink-play of the brush cavorting on the paper.
I awake to seek images of the past and of the present. I sit still for long periods, remembering and observing, before my brush dares to touch paper. I cannot resist the absolute joy derived from flowers, twisted trees, sea fog and mountain peaks. Experiencing these things stuns me. I paint the wealth of nature and, sometimes, I paint the things humans build so that they can live in nature's realm.
I am driven to capture the earth's energies and am constantly challenged with mastering the skills of traditional brushwork.
Art buoys my soul. I want my work to speak of a gentleness and a sense of infinity.