50 W. Main St., Denmark, ME 04022
207 452-2412
presents
AQUARIUM AND AVIARY: GYOTAKU AND SUMI-E
by
JEAN KIGEL
FRIDAY, JUNE 29-THURSDAY THROUGH AUGUST 2
AQUARIUM + AVIARY
by Jean Kigel
Reception: Friday, June 29, 5-7pm
<![if !vml]>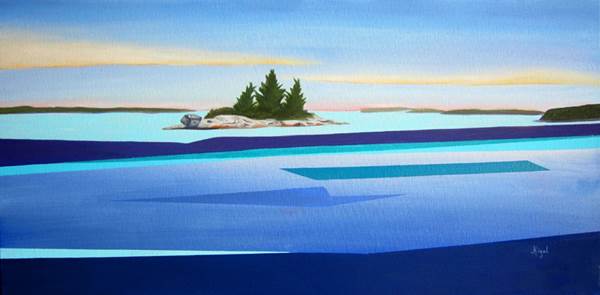 <![endif]>
<![if !vml]><![endif]>Down East meets Far East as award-winning Mid-coast Maine artist Jean Kigel transforms the main hall of the DAC into an oriental aquarium and aviary with a showing of her celebrated Gyotaku fish prints and Sumie-e birds.
Jean Kigel specializes in Asian brush painting executed with watercolors and sumi on hand-made, Chinese papers and silk. Her work is characterized by minimalism and the use of negative space. She has traveled widely in Japan and China, and has studied with Japanese, Chinese and Vietnamese masters both abroad and in the United States.
ARTIST WORKSHOP - SATURDAY, JUNE 30
Asian brush-style bird paintings
With visiting artist Jean Kigel
10am-2pm, $10 Suggested (includes materials)
Join visiting artist Jean Kigel for a workshop in how to master the deceptively simple art of Asian brush painting. Jean will demonstrate using bamboo brushes, watercolors, and sumi-e ink on rice paper. Students will leave class with an original painting. Ages 10 and up.
PLUS JULY'S INCREDIBLE EVENTS INCLUDING A CATERED SUSHI DINNER AND TWO JAPANESE MOVIES:
DINNER & A MOVIE!
SUNDAY, JULY 8
JIRO DREAMS OF SUSHI [trailer]
6pm, $10 Suggested (includes dinner)
(Dir. David Gelb, 2011)
85 year-old Jiro Ono is considered by many to be the world's greatest sushi chef. He is the proprietor of Sukiyabashi Jiro, a 10-seat, sushi-only restaurant inauspiciously located in a Tokyo subway station. Despite its humble appearances, it is the first restaurant of its kind to be awarded a prestigious 3 star Michelin review, and sushi lovers from around the globe make repeated pilgrimage, calling months in advance and shelling out top dollar for a coveted seat at Jiro's sushi bar. At the heart of this story is Jiro's relationship with his eldest son Yoshikazu, the worthy heir to Jiro's legacy, who is unable to live up to his full potential in his father's shadow.
Note: Enjoy this mouth-watering film in regal style, with homemade sushi, miso soup, and seaweed salad, courtesy of DAC chef-in-residence and Japanese scholar Jamie Hook. Mochi for dessert. BYOS (for Sake).

SUNDAY, JULY 15
TONARI NO TOTORO [trailer]
4pm, $5 Suggested


(Dir. Hayao MIyazaki, 1989)
Perhaps the finest film ever directed by Japanese master Hayao (Spirited Away) Miyazaki, Tonari no Totoro is quite simply one of the best films about childhood and summer ever made. Telling the deceptively simple story of two girls moving to a new house in the country, Tonari no Totoro observes with heart-aching precision and gorgeous animation the always magical, and sometimes terrifying, world of children. Dubbed in English
PLUS OTHER EXCITING EVENTS
SATURDAY, JUNE 30, 7:30pm
A WALK THROUGH THE VIENNA WOODS
Classical concert with The DaPonte String Quartet
SUNDAY, JULY 1, 5pm
SOUND OF MUSIC SING-ALONG
An interactive film screening
FRIDAY, JULY 6, 7:30pm
IN THE BLOOD
Film with a live score performed by the filmmaker
SUNDAY, JULY 8, 6pm
JIRO DREAMS OF SUSHI
Dinner & a Movie
SATURDAY, JULY 14, 6pm,
BASTILLE DAY!
A contra-dance and potluck dinner
SUNDAY, JULY 15, 4pm,
TONARI NO TOTORO
Children's Matinee